Ostomy Products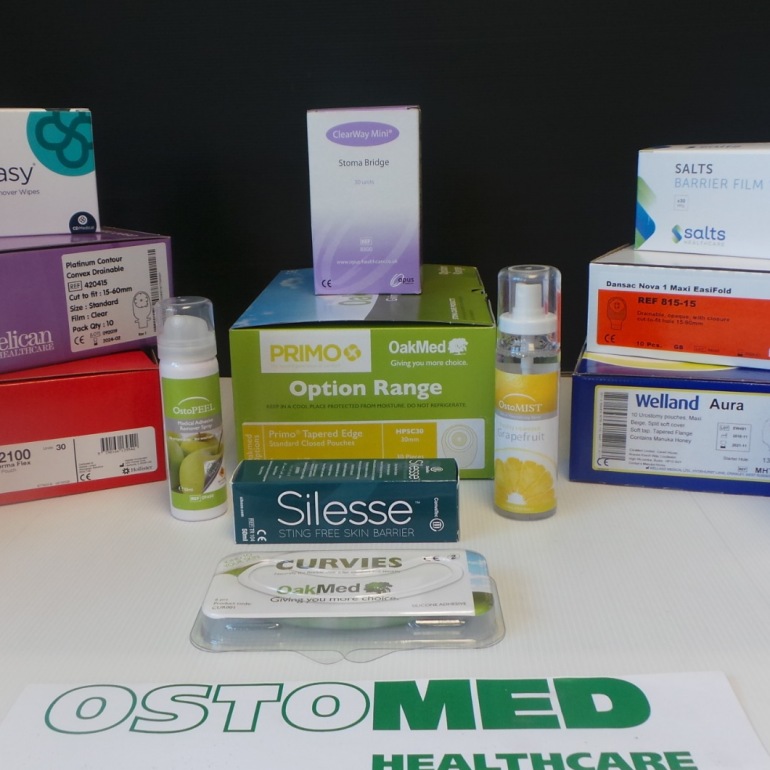 It takes time to adapt to life with a stoma and basic stoma care is essential to protect the stoma and surrounding skin, keeping it functioning safely and effectively, whilst avoiding any irritation or discomfort. Choosing the right products can make that process smoother and simpler, building your confidence and helping you to move on with your life.
Ostomed stock a wide range of ostomy appliances including Colostomy bags – closed one and two piece bags, Ileostomy bags – drainable one and two piece bags and Urostomy bags – leg bags and night bags. Our appliance range is fully supported with all the accessories you need to make using your appliance simple, safe and successful, including barrier protection, flushable wipes, deodorant sprays, stoma caps, flanges and adhesive removers.
We offer a Bespoke Appliance Customisation Service and use the latest technology to ensure your appliances are cut to your personal requirements. With our new computerised cutting machine this ensures that you have the most accurate and hygienic cut available reducing the risk of leakage, skin irritation and blockage of the channel.
There are three main ostomy procedures, and each is done for different reasons. Although there are many similarities there are also important differences.
Colostomy
A colostomy is a surgically-created opening into the colon through the abdomen. Its purpose is to allow the stool to bypass a damaged part of the colon. The output from a colostomy includes liquid or formed stool, gas, and odor. A colostomy can be located at a variety of points along the colon, this is normally dependent on the medical reason and is often defined by the portion of the colon involved and can be temporary or permanent.
Ileostomy
An ileostomy is a surgically created opening into the small intestine through the abdomen. The purpose of an ileostomy is to remove a section of the small intestine and large intestine. The output from an ileostomy includes a steady liquid type of drainage that over time will become thicker and more viscous. A ileostomy is usually located on the lower right-hand side of the abdomen directly out of the intensities and can be temporary or permanent. The stoma or peristomal skin comes directly into contact with digestive enzymes that makes the output very corrosive, It is extremely important to protect this skin.
Urostomy
A urostomy is a surgically-created opening to drain urine. A urostomy allows urine to flow out of the body after the bladder has been removed. The output from a urostomy is urine. A urostomy is located on the lower right-hand side of the abdomen and is created by removing a short segment of the intestine and using it as a pipe for urine to flow out of the body. This type of stoma is generally permanent.
Products
Our Incodirect Webstore is currently closed for redevelopment. We are still taking telephon...