First Aid Products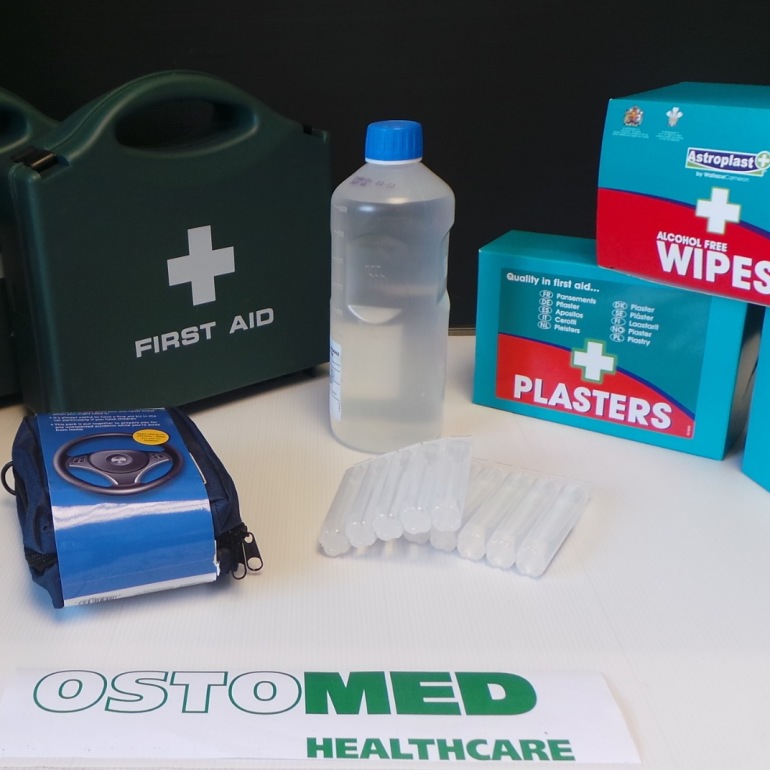 Ostomed offers all you'll need for those potential First Aid Emergencies. Our comprehensive range of First Aid kits and equipment can be tailored to suit your first aid skills and requirements for the workplace, vehicle, and home. First aid saves lives and knowing what to do in the event of an emergency makes all the difference.
The Health and Safety Regulations 1981 require employers to provide adequate and appropriate equipment, facilities and personnel to ensure their employees receive immediate attention if they are injured or taken ill at work. These Regulations apply to all workplaces including those with less than five employees and to the self-employed.
Our fully compliant BS8599 Kits are the perfect workplace and home solutions. With kits available from as little as 1 person all the way up to bespoke kits for larger organisations, we'll provide all you'll need from emergency first aid kits to burn kits and trauma kits to suit your requirements.
First Aid Kits
First Aid Kits are a collection of first aid items you would need in case of an accident that requires basic medical treatment. Our HSE Compliant Kits comply with the recommended content as set out in HSE First Aid Regulations. We also supply BS8599 Compliant Workplace First Aid Kits that exceed HSE recommended contents and comply with the latest British Standards.
Burns First Aid Kits
First Aid Kits designed specifically for treating burns, scalds and sunburn injuries. Burns kits are essential for rapid first aid if employees burn or scald themselves in the workplace. Even in workplaces where fire is not a high risk, it's a good idea to invest in burn treatments such as burns kits so that should anyone be injured in this way, he or she can be treated quickly and effectively before obtaining professional medical attention. Full attention must be given to the health and safety of workers, and a burns kit in the workplace can provide immediate help should anyone be burned.
Eye wash Stations
Eye wash / irrigation stations stages are essential stations that hold eye was in either bottle or pod form for when accidents involving liquids that can splash into the eye. All eye wash products meet BS8599 and satisfy HSE recommendations.
Refills
The most expensive part of HSE compliant first aid kits is the box or cabinet. Once the contents of your first box need replenishing from either use or date expiration then the most cost effective way is to purchase a refill kit that meets the needs of your workplace.
Products
Following the recent announcement of a bank holiday for the state funeral of HM Queen Elizabeth II, ...